Blog 1: Project roadmap
Posted by Cam on 2018-08-17
Hi! Welcome to this development blog, this website, and this project. Steffi and I were so pleased to get this NSF funding — many, many thanks to the ABI panelists, the four reviewers, and to NSF and US taxpayers.
In this blog, I'll lay out the main steps in the development of the informatics infrastructure. (For a general overview of the project, see here.) Here is an overview diagram: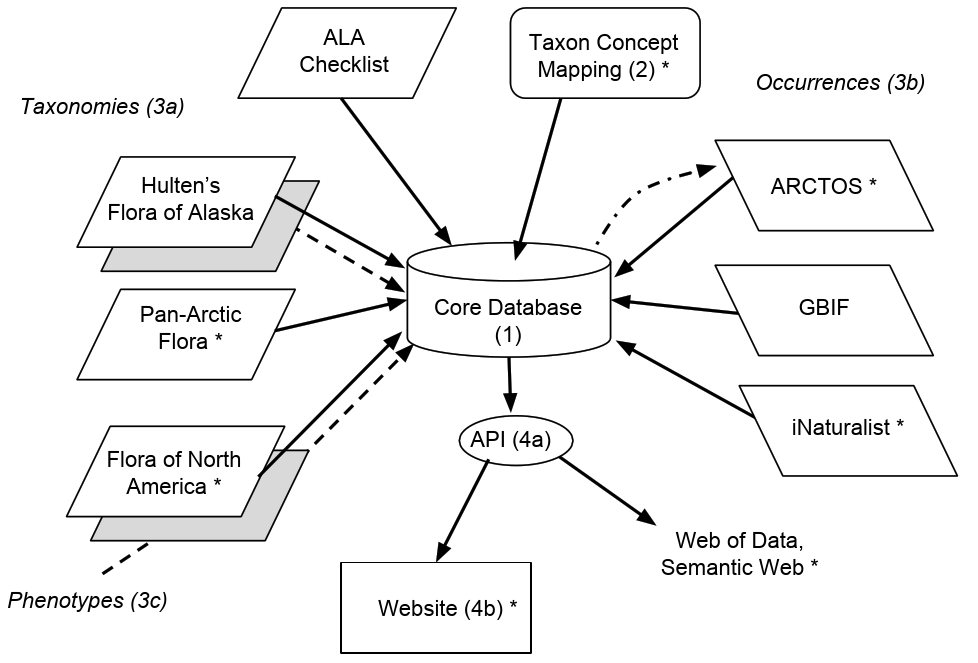 The software and data elements to be constructed and integrated are:
Some of you by now may be asking "All this data stuff is OK, but what about a new paper Flora of Alaska?". Well… first a reminder that this NSF project is just part of the full Flora of Alaska project. To realize the latter, there will be new taxon reviews and keys (e.g., see here for Draba), and the Flora team will try to capture as much of the experience of Alaskan botanists as possible. The timeline of the full Flora will be longer than for this project. However… we hope and anticipate that the data captured during this project will permit the automated generation of much of the text in any new new paper Flora (of which the can be several, each tailored to a specific audience).
The reviews of our proposal confirmed that a major opportunity of this project is to be a model for other projects that are integrating data around taxon concepts. This role as a model activity is best served not only by presenting a working, well-documented product at the end of three years, but also by sharing the logic and stories around each of the significant steps along the way. So we plan to tell this story in these blog pages as we go forward. Please check back regularly, and subscribe to the RSS feed. And please do leave comments below, or send them to us directly.
Thanks for reading!
---